Dror Bar-Natan's
Image Gallery
---
---
Browse to:

Symmetry: Tilings
---
My father Shaul (1929-1993) and myself in my first digital picture ever,
taken in the Museum of Science and Industry in Chicago, August or September 1979.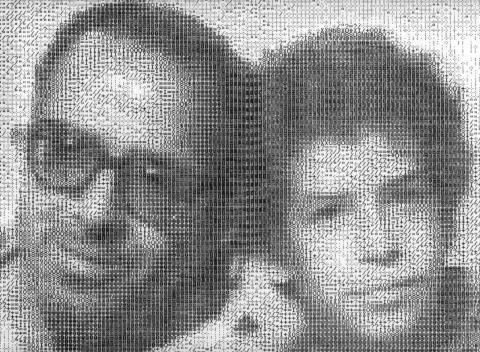 BACKGROUND OF THE TECHNIQUE: [from a page that accompanied the original image]

These computer portraits are an adaptation of technology developed by the Jet Propulsion Laboratories to clarify fuzzy television transmissions from the Mariner spacecraft of planet Mars and Jupiter. The original TV spacecraft pictures had too many blotches caused by clouds, so the computer was programmed to edit out the blotches, showing a more detailed, cloudless picture. Using this process called IMAGE ENHANCEMENT, the computer actually discriminates useless from valuable information.
Our photographic process begins when the televison camera transmits your image to the computer processor. The picture in the camera's field of view is separated by a video digitizer into discrete points, each of which is called a pixel (for picture element). The video digitizer separates the continuous video input from the camera into discrete values corresponding to the light intensity (darkness or lightness) and then stores them in the memory of the computer. The complete operation to digitize and store 14,400 (120x120) pixels takes 2 seconds.
In one minute the computer prints the stored picture on a matrix by converting the stored intensity values to one of 22 different typewritter-like characters. The character selected is lighter or darker varying in proportion to the intensity value of the corresponsing pixel. The printed picture contains 14,400 printed characters that print at rate of 350 per second. The matrix printer does not print standard typewriter characters, but different combinations of dots (7 vertical x 5 horizontal) that look like characters. That means that not only are the portraits made up of characters; the characters themselves are actually made up of dots.